Welcome to Northern Backdrop Interior Design
BAR & CINEMA ROOM, HALE, CHESHIRE
RESIDENTIAL INTERIOR DESIGN, GREATER MANCHESTER
THE KINDERTON, MIDDLEWICH, CHESHIRE
SHIPPON BAR & RESTAURANT, PLASSEY, NORTH WALES
GODFREY HOYNE PROPERTY INVESTMENT OFFICE, ROMILEY, GREATER MANCHESTER
THE LAD BIBLE GROUP, NORTHERN QUARTER, MANCHESTER
GREENS BAR AND RESTAURANT, TEMPLENOE, CO.KERRY, IRELAND
RESIDENTIAL LIVING SPACE & KITCHEN DESIGN, CHESHIRE
The Living Room, Liverpool
Gresham Office Furniture Showroom, Clerkenwell, London
RYE CAFE & BAR
200 DEGREES COFFEE SHOP & BARISTA SCHOOL, NOTTINGHAM
TIE INTERCEPTOR
X-WING FIGHTER #1
The White Lyon & Dragon, Worplesdon, Surrey
Bar Room Bar – Pizza Kitchen and Bar, The Mailbox, Birmingham
Hole in The Wall, Stratford upon Avon
The Duck, Battersea, London
The Rose and Crown, Brentwood, Essex
The Bread & Cheese, Benfleet, Essex
THE FAT PIG AT CHEQUERBENT, LANCASHIRE
RESIDENTIAL PROJECT, MANCHESTER
The Cow, Cambridge
The White Hart, Hook, Hampshire
Go! Bar and Kitchen, John Lennon Airport, Liverpool
Have a look around - click on the portfolio tab or the sidebar images to view projects.
Residential bar refurbishment for private clients
Open plan living, dining and bespoke kitchen design with a modern Ibiza apartment feel, utilising simple geometric shapes and forms to soft zone the space.
New bar & restaurant design and build
This unique venture involves the the conversion of an Edwardian Era milking parlour into a premium bar and restaurant in Plassey, North Wales. Almost all of the original features and details of of the building were maintained or up-cycled into the final design. Photography by Ollie Harrop.
Conversion of a former bookmakers shop unit into a modern office space and business hub.
Winner of the Northern Design Awards 2017 for the Best Commercial Interior under £250,000. Re-invention of the Northern HQ for the Lad Bible Group, one of the world's largest online youth communities.
Recent major re-design project of the former club house at The Ring of Kerry Golf Club, one of Ireland's premier golfing venues.
Recently completed bespoke interior for private clients who share my taste for Scandanavian and mid-century Modernist design.

The bespoke kitchen design for this interior project won Best Kitchen Design for under £15,000 and won Best Overall Design at The BA Awards, November 2015. Built by Thornley Interiors, Cheshire.

Voted Best of Houzz Design 2017 and featured as a double page case study in Grand Designs Magazine May 2017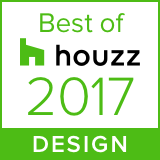 Refurbishment of this landmark restaurant and bar in the city centre
Very successful recent departure into office space design where, amongst other things, ' 80's desktop toys become super-sized lighting features.
Cafe and Specialist Craft Beers Bar, Nottingham
Acclaimed flagship for Nottingham's finest artisan coffee roasters. Recently voted runner-up for 'Best Coffee Shop in the UK' and winner of 'Best for Working Out of Office' category at The Coffee Stop Awards held at the Caffe Culture Show at Olympia.

Bespoke & hand made design work bringing restoration & new life to one of the city's oldest buildings, The Flying Horse (AD1483).

Project in collaboration with graphic artist & illustrator, Nick Chaffe - www.nickchaffe.com
Second HEAVY PETAL illuminated Star Wars sculpture created from up-cycled old Raleigh bike frames.

Commissioned by WIRED magazine & featured in Nov. 2014 edition.

Both sculptures featured as showcase installation at WIRED 2014 event, London.
Lighting installation commissioned by the organisers of the SPIN LDN cycling expo in London.

Created to formally launch our sister company, HEAVY PETAL, in conjunction with Tyson Lighting, this iconic Star Wars craft was constructed from bicycle frames and parts.
Fine Thai dining restaurant and public house
Continental influenced design within the Urban Splash development
Twisted take on a gentleman's club/billiard room in a classic London pub site.
Fine Thai dining restaurant and traditional english public house
Conversion of a redundant former community local into a restaurant pub and carvery.
Conversion of a redundant restaurant in a former Victorian era police station.
Final stage 3d renders of an extended living space and dining room for a private client.
City centre student led bar with basement club
Faithful updating of this Grade II Listed 16th century coaching inn, which is the 5th oldest licensed premises in Britain.
Bar & Kitchen offer in the airside concourse of Liverpool Airport. 3D concept model included in portfolio shots.